Universal Time Coordinated
active storms will be seen here
WHAT ARE SPAGHETTI MODELS?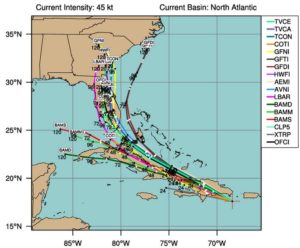 Spaghetti models (also called spaghetti plots, spaghetti charts and spaghetti diagrams) is the nickname given to the computer models that show potential tropical cyclone paths. In short, spaghetti models give you a way to see where a tropical storm or hurricane may head( they update every few hours). It can also give insight into whether the models are in agreement on the path of the storm or if there is a wide differing opinion on where the storm may go.
Spaghetti models are also useful in the case of a developing storm system that has not officially become a tropical depression or a tropical storm, meaning that no agency has released an official path but the system has tagged as an investigation area (Also called an invest). In these instances, spaghetti models can serve to give you an early heads up as to where a future tropical storm or hurricane may head.
However, once a tropical disturbance has officially become a tropical cyclone, different government agencies (e.g. the National Hurricane Center for the Eastern Pacific and Atlantic basins) release an official best guess path based on their analysis of the different model data and other factors. These forecasts should be used for official planning, though the spaghetti plots can still be quite useful for seeing how confident all of the models are.
Please note that these models do not speak to whether a storm will bring rainfall, hurricane-force winds, surge, or other data; they just contain information about the center of a storm's future track. An additional limitation spaghetti models have is that they don't show any representation of intensity or size of a particular storm. These are represented on different charts, usually for individual storms.
What Does Invest mean ?

An Invest (short for Investigation), also called an area of interest, is a designated area of disturbed weather in the tropics investigated by the National Hurricane Center (NHC).
The term Invest is followed by the numbers 90 through 99 and either the letter "L" for the Atlantic basin systems or "E" for the eastern Pacific systems. . once 99 is reached , it recycles and goes back to 90.. So if you see invest 90L, that means there is an area in the Atlantic being monitored . if it says invest 90E , there's a system in the Pacific being monitored ..Hope this helps